Shopping Cart
Your Cart is Empty
There was an error with PayPal
Click here to try again
Thank you for your business!
You should be receiving an order confirmation from Paypal shortly.
Exit Shopping Cart
S. Cashua Dr. Florence SC 29501 US
Exceptional Service, Experience You Can Trust
Ingredients
1 Pound of ground chuck
4 Oz. dried bread crumbs
4 Large eggs
6 Oz. grated Romano
4 Oz. whole milk
3 Oz. grated spanish onion
2 Oz. finely diced fresh garlic
2 Oz. finely chopped fresh Italian parsley
2 Oz. finely chopped fresh basil
Directions
Preheat oven to 350F
Rub or spay a baking sheet with olive oil
Mix all ingredients in a large bowl. If mixture is a little loose add a little more bread crumbs.
Roll meatballs loosely about the size of a golf ball
Place on baking sheet and bake for 35-40 minutes.
They are ready tp eat at this point however I usually put them in my simmering sauce for 30 minutes or so but is not necessary.
Fresh , quality ingredients always yields better results .
Enjoy
Here's a simple dry rub thats a winner at any outing. Makes enough for several racks.
1/2 cup dark brown sugar
1/2 cup paprika
1/3 cup garlic salt
2 tablespoons onion salt
2 tablespoons chili powder
1 tablespoon cayenne pepper
1 tablespoon black pepper
1 & 1/2 teaspoons dried oregano
1 & 1/2 teaspoons white pepper
1 teaspoon cumin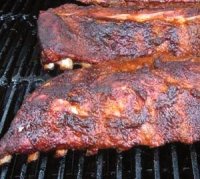 These Cinnamon Rolls are really good and simple to make, Give them a try, they are a crowd pleaser ! I make mine huge 1 Lb. each !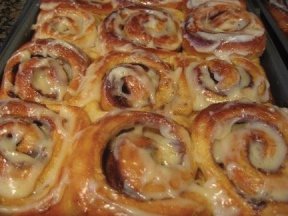 /